Exciting News - An Appointment has been made
Following the parish visit and interview last week, we are excited to inform you that a written offer was made to Revd. Dr. Mike Branscombe by Bishop Andrew for the appointment as:
Priest In Charge of the Parish of St Andrew's, Cobham
which was accepted by Mike Branscombe.
The formal announcement was made in St Martin in the Bull Ring, St Andrew's Cobham and St Mary's Stoke D'Abernon on Sunday 10 June.
The appointment as Priest in Charge is made to allow for the process of suspension and separation of the Benefice, requested by the two churches, to continue, which when completed (it will take several months), it is intended that Mike would become Vicar of the Parish of St Andrew's, Cobham.
The Licensing of Revd Dr Mike Branscombe as Priest in Charge of St Andrew's Cobham will take place on Thursday 6th September at 7.30pm at St Andrew's Church. Bishop Jo and the Archdeacon, Paul Bryer, will be officiating at the service.
Here is a note from Mike to St Andrew's Church.
"We are so very thankful for the wonderful and warm welcome we received in Cobham at St. Andrew's on Monday and Tuesday this week.  The invitation to come and join your community and share in the mission that Jesus has called us all to fills us with anticipation and excitement. We can't wait to come and be with you and join in the wonderful work that God is doing at St. Andrew's.
Mike and Margaret have been married for almost thirty years and we have served in a variety of parishes both here in the UK and in the USA.  We will be coming from the city centre of Birmingham and look forward to settling into Cobham.  Margaret will be working as a Literacy teacher at Esher High School and hopes to continue with her Drama in Education consultancy.  Ella 12 and Grace 10 are looking forward to starting new schools and making new friends in September. 
As a family we continue to be amazed at the way God has been leading and calling us over the years. You will soon learn that Mike follows the fortunes of Grimsby Town Football Club. Margaret is interested in all things educational and enjoys relaxing with the occasional Hello magazine. Ella loves to dance at every opportunity. Grace is our logical thinker and asks many taxing and testing questions! We are looking forward to getting to know you and hearing the stories of what St. Andrew's means to you. 
Please pray for us all in the midst of our move.
With love in Christ,
Mike, Margaret, Ella, and Grace Branscombe"
Parish BBQ - 24th June
The annual St Andrew's BBQ will be from 12 noon on the 24th June.  Lots of fun including a bouncy castle and games on the field.  As England will be playing their 2nd World Cup match we will also be showing the match on the large screen in the hall.   A lovely opportunity to meet each other over great food.  Suggested contribution is £5 for adults.
News and Events
Click the titles for more information.
Proposal to Suspend the United Benefice
The Archdeacon and the PCC's of St Andrew's and St Mary's have met to consider the way forward. There is a proposal to seek to suspend the United Benefice and separate the two parishes. We would then be looking for a new Vicar for St Andrew's alone. Read the full statements here.
Video from Holiday Club
Seaside Adventure Holiday Club at St Andrew's 2018 ran on Tuesday 3rd April to Thursday 5th April between 10am - 12pm.   There was lots of craft activities, fun, bible stories, snacks, singing and prayer.      Here is a short video showing some of the fun we had at holiday club.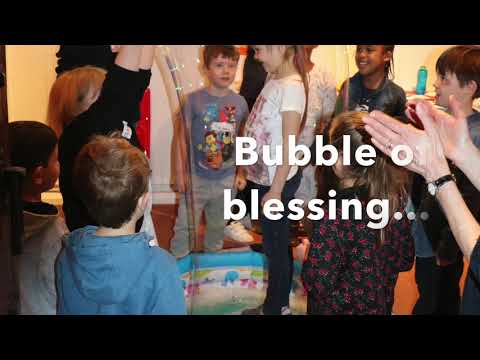 Cobham Messy Church
The next Cobham Churches Together Messy Church will run on Thursday 28th June between 3:45 - 5:45pm when we will be looking at the Money Puzzle..
Everyone welcome at the URC in Stoke Road to have fun together, crafts, songs, stories and food!
Men's Curry & Conversation - 22nd June
 We are delighted to welcome Canon Dr.Steve Summersas our guest speaker for the evening, who will talking on 'Are Facebook Friends real Friends?'
Men's Curry & Conversation will be on Friday 22nd June @ 7pm in Church Gate House.
Everyone welcome - please share the news with your male friends.
Please do let the office know if you are able to join the evening.
Latest Editon of Together Magazine is available
The June 2018 edition (No 40) of the Together Magazine, the parish magazine for St Andrew's & St Mary's is now available, 
click here to download the latest edition.  Hardcopies of the magazine, including large print versions are available in the Church or the office
. 
Prayer Meetings during the Vacancy
There will be a number of opportunities to come together to pray for our church and for the new Rector during the period of vacancy. These will be in the Church Gate House Lounge at 8pm for 30 mins (up to an hour if people want to continue).
For the dates of future meetings, click here.
More information from Dave Greenwood or the Parish Office.